I freaking love the Olympics.
After the 1996 Summer Olympics, I spent a month's worth of Saturday mornings pushing furniture up against the living room walls, clearing enough space for my own tumbling passes. They were mostly cartwheels and round-offs, but I could hear the crowds cheering in my head, and it was FUN. And that fierce Magnificent Seven had given me the kinds of role models I'd never had before. I enrolled in gymnastics for the next year—the only sport I've ever voluntarily enrolled in. If I'd had my way, I would have done it for years.


For those of you who know me, you are either a) surprised, because I generally care so little about the sport games on TV each and every day, 365 days a year, or b) whispering "Duh," to your computer screen because you've seen my Olympic fangirl social media posts, which have altogether taken over my Facebook and Twitter feeds.
I care not.
I love. The Olympics.

This year, though, it's different. This year, I needed the Olympics. As a matter of fact, I think we all did.
We needed a break from the campaigns. We needed to see something other than horrible, once in a lifetime, massively destructive news popping up daily on our Facebook feeds. We needed a reminder that the world has an unbelievable amount of life and goodness in it. WE NEEDED the Olympics.


We all know why people fall in love with the Olympics. It's the best of the best, seeing if they still have what it takes—or if they ever did. They are the athletes making a comeback, returning to the games as changed individuals, stronger, better, wiser, older. And they are new faces that we all fall in love with.
But this year. Man. THIS YEAR.
This year, the Olympics are a much needed reminder that girls, as my friend Lauren put it, are "strong as hell." Because they are strong as hell. It's watching
Aly Raisman
slay her all around floor routine and then break down seconds later at the emotion of it all. She came back with her sights on a medal this year, and daaazaamba if she didn't get two of them already. It's witnessing
Simone Biles
be the kind of gymnast that has literally never existed before, sparking jokes and rumors that she may actually be a superhero, and knowing that her
beginnings
were far from easy. It's keeping up with
Katie Ledecky
while she blows world records out of the water, with the joy that makes you truly believe that she will keep competing solely for the love of it. She's changed the definition of what it means to "
swim like a girl
." We needed some more Katie Ledecky in our lives, amen?
It's weeping while watching
Simone Manuel
become the
first African American woman
to take the gold medal in any Olympic swimming event, and the look on her face when she realized what she'd done. Seconds later she told the cameras that all glory belonged to God. I about exploded with happiness. Refugee swimmer
Usra Mardini
won her heat in the 100m butterfly, and
her story
became the most important reminder of what women can do—at 18 years old, they can save the lives of 20. Women are faithful. Women are incredible.
Women are HEROES.
And women are Strong. As. Hell. This is a great time to be a woman. And knowing my nieces are at home, watching all of this, is the best.
And then there's Michael Phelps. HOOOOBOY if I haven't read every thought piece on him that's taken over the internet in the past few weeks. I literally cannot even decide what to hyperlink to regarding this guy. I've grown up alongside his story, and so has he. And now, I have watched him, at his fifth Olympics, take home gold in
every single race that he's competed in
. The expectations on him have never been higher, and his emotions have never been more on the surface. He went from wanting to die, to going to rehab, to
reconciling with his father
and reading passages from
A Purpose Driven Life
out loud to the others in his rehab facility. Michael Phelps is proof for my own soul that more often than not, people have to sink to the bottom before they can be restored. And at 31 years old, he's
beating everyone
, climbing gingerly out of the pool, tearing up on the top of the medal stand, and then getting back in the pool to qualify for the next night's race. Oh, and kissing his son, Boomer.
BOOMER
! Those headphones!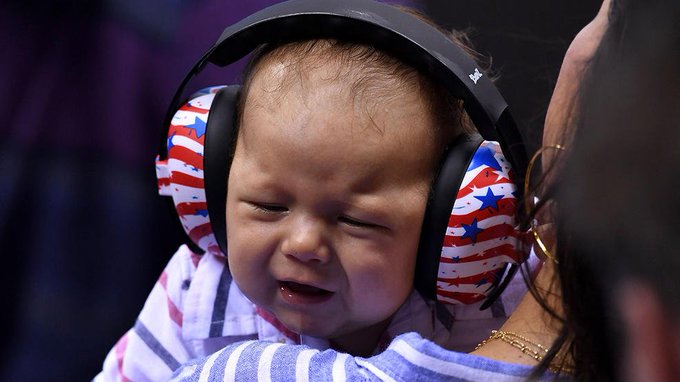 Photo Cred: ScoopNest.com
I really don't know how anyone is doing anything besides obsessing over that fat baby.
It has been a victory for African Americans in a time when our country appears to suck at caring about social justice. It has been a victory for the downtrodden who needed desperately to finish well. It has been a victory for women who needed to remind the world why they are freaking awesome. It's been
sort of a bummer
for Ryan Lochte. And I have basically been losing my mind over the whole thing for seven straight days--and I LOVE IT.
I'm staring down the hole at turning 30 in two months. I've been married for two years, and we're talking kids. I have a new job and a big commute. My responsibilities feel like they're at an all-time high, and I know they will only increase from here. I'm happy, but I'm busy, and most of the time, I am doing the responsible thing. I am chugging along. Literally. I take the train.
I read the news, I pray for the downtrodden, and I agonize over the stories that seem to point to a world that's intent on destroying itself. So often, I feel heavy. The world feels heavy.
But this week, I remembered the part of myself who watched
Kerri Strug
take home gold for her country on a sprained ankle. I'm that sparkly ten-year-old, standing in front of the TV and cheering (read, screaming) on my country, feeling the insane motivation to push myself in a way I didn't have before. I'm involved in the stories of the Olympians.
I care, not because I feel like I should, but because this is still the kind of fun that's BIG. It's the kind of fun that brings story and victory and redemption and THESE COMMERCIALS and reminds me, swimming in a sea of millennials, that hard work is the only way to get the finish line.
In fact, something about the Olympics makes my own daily grind feel more noble. Knowing these people have killed themselves for years, pushing it to the brink—I needed a reminder of how much joy can come from giving something your absolute best.
Now if you'll excuse me, I need to go push some furniture out to the side of my living room. I have a routine to practice.